Looking to convert PDF online? Looking to delete a PDF page from a long-length file or to convert a PDF file to word? If your answer to all the above questions is yes, then this article is only for you. Whether you are Start-up, an agency, a freelancer or an enterprise & even educational institutions, this article will be of your benefit.
CleverPDF is a highly flexible DOC's management tool that works online to take care of document conversion, splitting & various other needs. CleverPDF, with its range of tools, fastens your PDF experience. The software is available for devices – Mac, Windows, online and offline. If you want to convert a PDF file on your Mac, iPhone or iPad but not sure which tool to use, read this article as we will let you know how CleverPDF is one of the best pdf converter apps and how to convert pdf with this software.
While there is no limit to available PDF converters online, most of them offer their premium offerings either in their paid plan or the highest paid plan. As for the free PDF converters that are available online, most of them are nothing less than trash – offering limited features and not reliable at all.
What is CleverPDF?
Just like its name, CleverPDF is a PDF service with an inbuilt PDF reader. With this software, you get 44 free online PDF tools which eases your daily life by giving you a free tool to convert your PDF files to other formats such as Doc, Image, PPT, iWork and eBooks format. And not just this, you'll also be able to perform PDF unlock/encrypt, PDF combine/split, PDF conversion, rotate PDF or remove pages from PDF file. All these are the unique features that comes in a single bundle (software). Added benefit? the software's compatible with all the major leading platforms including Web App, Mac, and Windows.
CleverPDF also offers an offline version to the software, for people who don't want to use the online version. The offline version includes functions such as detecting "tables, batch processing, or edit tables".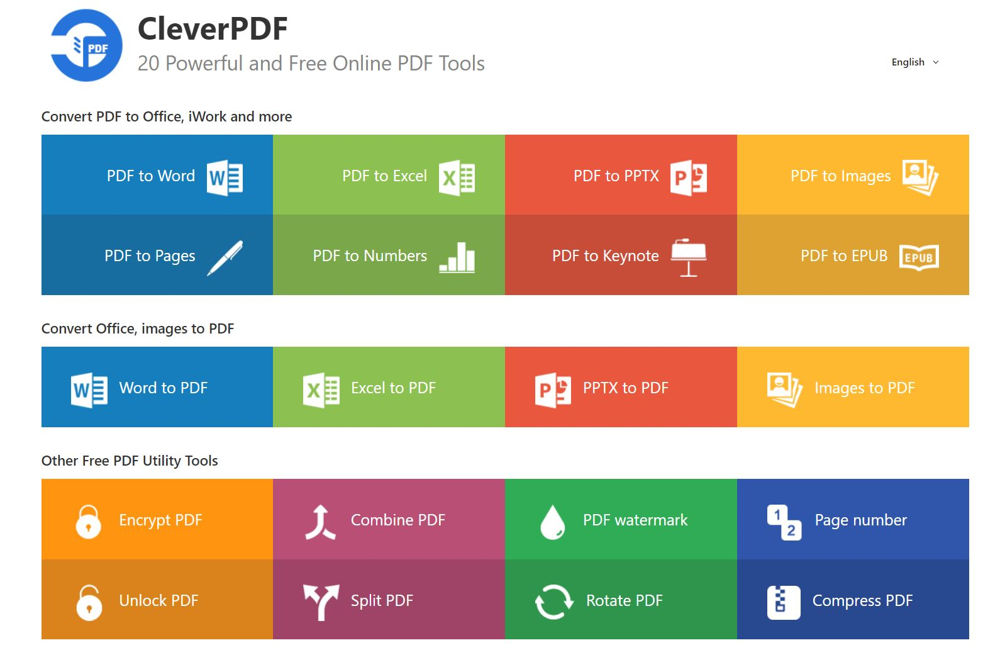 Being a free online platform, CleverPDF is widely known and used as a free PDF to Word converter. You can easily create high-quality PDF files, just by using this PDF to Word converter online tool. The software can handle large size files. The platform also excels in processing batch files. The software posses great ease of use, you can enjoy using the software without any big trouble and help. The software makes sure the security of the data that is uploaded.
The features of the software is not restricted to just PDF conversion, you can generate and manage these PDF files with the online panel. CleverPDF can easily access & convert almost all types of file formats. The software has multiple PDF related activities. You can easily combine, split, reorder, rotate PDF files with this tool. There are 44 tools available in this free PDF to Word converter online tool. It's not just a Word to PDF converter or a PDF to Word converter, but you can convert PDF files into any required file format – PDF to Pages, PDF to JPG, PDF to Excel, PNG to PDF, BMP to PDF and many more.
CleverPDF is equipped with the best utility features for enhancing your experience with files. You can also unlock the locked PDF file using CleverPDF. Adding watermarks to PDF files can create an authority of the file visibly. You can add watermarks to file using this platform. For ensuring the portability of the PDF file, you can compress the documents with this software.
Features of CleverPDF
Assembling of Documents
PDF Compiling
Splitting PDF pages and combining them to one
Image conversion to PDF
PDF encryption
Watermarking
Ease of Use
All these features must really excite you. Further, it will make your document management quite easy & convenient as you'll find all the relevant tools to meet your needs. Added Feature: There is no constraint to the number of files or times you use this tool. Further, there is no registration.
Understanding the Features
1. Convert PDF to Office, iWork, Ebooks, Images and more
Well, so far we have established that the main feature of this application, along with that it offers loads of other options. For example, you can convert your PDF files into various formats such as Word, Excel, PPTX, Images, Keynote, EPUB, JPG, PNG, TIF etc.
And not jus this, you can convert these into a few image formats and even .mobi format. Speaking of the file conversion, popular file types like Word, Excel, PPTX, Images, ODT, PNG, JPG, TIF, EPUB, etc. can be converted to PDFs. The software performs well with complex PDF files too. Sounds too good to be true!
2. Combining PDF and Splitting
This free tool helps you combine multiple PDF and image files into one document or split a file to multiple one's. You also get to choose the extract specific pages, or even-odd pages for example.
3. PDF Compression To Reduce Size
We are sure that many of use face issues such as having a large to be mailed and it take a lot of time and space in our mailbox. Well, CleverPDF's this feature will come handy for those who send such mails. This application manages to get maximum percentage of compression which is very satisfying. Note: This Feature Does Not Affect The Quality of Documents.
How To Convert PDF To Word Online?
1. Go to PDF to Word Page and click 'Choose file' to select file from your computer or you can simply drag-drop the required file.
2. Select the output format – doc or docx.
3. After selecting the file, click on "Start Conversion"
4. Once the conversion is complete, click on the "Download File" and check your converted word document.
CleverPDF's PDF to Word is extremely easy to use, a simple drag and drop can do the job. After the conversion, the original PDF content and formatting is not disturbed at all, the original details are kept as accurate as possible. If your every worry about the security and proximity of the files that are being uploaded, this is for you to know that the converted files are deleted automatically after 30 mins from the server. Best part is that you don't have to register yourself to use this tool or purchase/download the software. The online tools are forever free.
How To Convert PDF To Excel Online?
Go to PDF to Excel page, select file from the computer.
If your uploaded PDF files doesn't have table borders, please choose 'Detect table base on data structure'.
Similarly, If your uploaded PDF files have clear table borders, choose 'Detect table base on table borders' for better accuracy.
Once set, click 'Start conversion' button, the conversion will begin.
Check the downloaded file.
CleverPDF's PDF to Excel is extremely easy to use, a simple drag and drop can do the job. The advanced table detection helps to analyze tables in PDF accurately. From the given detection methods, you can select the correct option and convert PDF to excel.
Verdict
Using CleverPDF will make you realize the "easy of use" feature that is lacking in majority of PDF converting tools available online. While other tools are also capable, the speed of CleverPDF will simply makes your task easy. CleverPDF is an efficient tool loaded with an array of function and features, a perfect file encryption method & a reliable privacy policy. This all-in-one PDF converter is for those people who have to often deal with PDFs and want a tool that can perform various tasks with the needed precision.