It's a long known solution that deleted files are no longer a concern anymore, well all thanks to recovery utilities. With so many software and technologies launching in the market everyday its hard to choose the right and most efficient one. Stellar Mac Data Recovery Software is one of the worth trying options out of all the utility options available. Well, during our review the software turned out to be one of the simplest and efficient mac data recovery software. Let's hear what all features and pros the utility software has to offer to us.
Stellar Data Recovery Software For Mac is free to begin trying with, followed with the paid version. There are a plethora of apps offering a way to recover your precious files, but most of the time we have expensive paid plans embedded. Fortunately, Stellar Data Recovery Free Edition for Mac appeared to save our day even when we can't afford a paid plan. The software has powerful capabilities for recovering your files and offers up to 1GB of file recovery. In the paid plan you can go for unlimited data recovery. Let's dive into the features offered by this powerful software through this review.
Features
Recovers Lost or Deleted Documents, Emails, Videos, Audio, & Photos
Mac Data Recovery from any internal & external storage devices
Restores data from Time Machine backups & corrupt Bootcamp partitions
Recovers Data from inaccessible, unmounted or even encrypted HDD volumes
Supports HFS, HFS+, FAT, ex FAT, & NTFS file system
Recovers data from MacBook, MacBook Air, MacBook Pro, iMac, iMac Pro, Mac Pro
Fully compatible with Big Sur, macOS Catalina 10.15, macOS High Sierra 10.13 & lower versions till 10.6
For those unaware, Stellar Data Recovery is available on both Windows and Mac platforms. Apart from its powerful recovering features, it also comes with features that will greatly improve the user experience. Stellar comes to prove that recovering software does not need to be a complicated tool for new users.
Is Stellar Data Recovery Free?
Well, if you're an experienced Mac user, you'll be glad to know that Stellar Data Recovery has a long story in the segment. The software formerly known as Stellar Phoenix Mac Data Recovery is a Mac application designed and developed to recover deleted or lost files from Mac. It supports hard drive, SSDs, Fusion drive, Time Machine, USB, CD/DVDs, and can even recover lost files from removable disk or cards.
According to Stellar, its software can reclaim lost data from all Mac models including iMac, MacBook Pro/Air, Mac Mini, and Mac Pro. You'll also be glad to know that the software is one hundred percent safe for your Mac. It won't do any damage to your hard drive or device regardless of the operations performed. Stellar Mac Data Recovery will read and search for your files, but will not perform any kind of writing in your storage device.
Technical Specification
System Requirement

Processor Intel -compatible (x86, x64)
Operating System – Big Sur, macOS Catalina 10.15, Mojave 10.14, High Sierra 10.13, 10.12 & 10.11
Memory -4 GB minimum (8 GB recommended)
Hard Disk – 250 MB for installation files

License & Version

Single License – Can be used only on a single system

Technician – Can be used on multiple systems.
Version10.1.0.0

Interface Available


Supported Languages – English, German, French, Italian, Spanish, Japanese & Korean
Technical Specification
What Does Stellar Data Recovery For Mac Do?
File System and File Type Support
Stellar Data Recovery supports NTFS, FAT, FAT16, FAT32, exFAT, Ext2, Ext3, Ext4, HFS, HFS+, and APFS file system. The application can recover over unlimited file formats, including archive files, songs, database files, images, videos, documents, and more. You can find their complete list on this page.
Many other data recovery applications support far more file formats than that, but Stellar Data Recovery has one trick up its sleeve: it allows users to add new file types manually. This isn't something regular users are expected to ever take advantage of, but it's great that this feature is available for professionals.
Stellar Data Recovery software supports recovery of the following file types:
| | |
| --- | --- |
| Category | File Types |
| Acrobat Files | PDF |
| Archive Files | ARJ, CAB, 7Z, LZA, RPM, TAR, BZ2, HQX, RAR, SIT, SITX, ZIP |
| Audio Files | WAV, AIFF, RPS, MIDI, MID, M4A, AU, OGG, WMA, AAC, RFL, RNS, RA, RM, MP3, M3D, CDA, AU, OGG, WMA, AAC, RFL, SND |
| Database Files | MDF, DBF, CSV, MDB, ACCDR, ACCDT, ACCDA, ACCDB |
| Email Files | EMLX, PST, MSG, EDB, MBOX, NSF, GWI, EML, DBX, DCI, VCF |
| Image Files | NEF, CRW, CR2, ORF, SR2, SRF, K25, KDC, DCR, RAF, MRW, PEF, X3F, JPEG, JPG, TIFF, TIF, BMP, GIF, PNG, XCF, PAT, ARW, DNG, PSP, PCT, RAW, MOS, PSD, EPS, INDD, ERF, FH3, FH5, FH7, FH8 |
| Video files | AVI, WMV, ASF, MP4, MOV, M4V, 3GP, MXF, MKV, MTS, DIVX, OGM, MOI, VOB, MPEG, MPG, AVS, DVM, QT, ANM, SMJPEG, SCR, FLC, CLK, ANI, FLA, SWF, FLV, M4P |
| Miscellaneous files | MHT, MHTML, ASPX, JSP, PHP, DBF, QDG, QSD, ABD, CBK, CAS, CHM, HLP, NBP, QDF, RTF, TAX, TXT |
| Documents files | MDB, ACCDB, PDF, PS,C WK, FM3, FMT, WK1, WK3, WK4, DOC, DOCX, XLS, XLSX, PPT, PPTX, SDW, QXD, QXP, EPS, QBB, QBW, WPD, DOT, WBK, DOCM, DOTX, DOTM, DOCB, XLT, XLM, XLSM, XLTX, XLTM, XLSB, XLA, XLAM, XLL, XLW, POT, PPS, PPTM, POTX, POTM, PPAM, PPSX, PPSM, SLDX, SLDM, ADE, ADP, MDA, MDN, MDT, MDF, MDE, LDB, AND, ACCDR, ACCDT, ACCDA, MDW, ACCDE, LLACCDB, XPS, ODT, OTT, ODM, ODS, OTS, ODP, OTP, ODB |
If there's one thing users almost universality like about this data recovery software, then it has to be its user interface. While not particularly modern or stylish, its simple layout and clearly described options make it obvious which action the user is supposed to take next.
The recovery process itself, which we describe in detail in the next chapter, is also straightforward, consisting of just three main steps.
From the recovery of data stored on damaged, deleted, formatted, and lost partitions on any storage media to seamless recovery for lost or inaccessible RAID hard drives, Stellar Data Recovery offers extensive data recovery capabilities, covering a plethora of different use cases.
Users can choose between normal scanning and deep scanning. The latter scanning mode does a comprehensive file signature-based search that's particularly useful for recovering the files that couldn't be found with normal scanning.
Something more to be happy – The extra features
Depending on which edition of Stellar Data Recovery you choose, you can get access to various useful extra features that can be helpful when dealing with more complicated cases of data loss. For example, the Professional edition adds support for the creation of images from hard disks and volumes.
If you decide to spend even more money to get the Premium edition, you unlock the image and video repair feature, which comes directly from Stellar Repair for Video. This feature allows you to reconstruct partially corrupted image and video files, which can be extremely useful when restoring precious family pictures.
| | |
| --- | --- |
| Feature | Stellar Data Recovery |
| User-friendly interface | Yes |
| Intuitive recovery process | Yes |
| Recover data from formatted disks or partitions | Yes |
| Recover data from any disk-based device | Yes |
| Recover deleted files from an emptied Recycle Bin | Yes |
| Photo and video repair capabilities | Yes (Premium edition) |
| File formats supported | All Types; Unlimited |
| Linux support | Yes (Toolkit Edition) |
| Customer support | Phone, tickets, chat support, knowledge base |
How to Download, Install & Activate Stellar Data Recovery for Mac?
Stellar Data Recovery features a streamlined recovery process that boils down to three simple steps:
Step 1: Select the type of data you want to recover.
Step 2: Select the storage device you want to scan.
Step 3: Save recovered data.
But before you can get started, you first need to download the application from its website and install it on your computer. Stellar Data Recovery is compatible with Windows 10, 8.1, 8, and 7, as well as Big Sur, macOS Catalina, Mojave, High Sierra, Sierra, OS X El Capitan, Yosemite, Mavericks, Mountain Lion, and Lion.
For the purposes of this review, we're using the Mac version is 10.15.5 but the windows version visually and functionally identical. Installing it was simple enough since all we had to do was to double-click on installation file and follow the instructions.
1. To Download Stellar Data Recovery For Mac;
If you want to try the software before making a decision to purchase, Try the Free demo version of the software.
If you've already made a decision and want to download a full version of the software, click Buy Now. You'll be redirected to another page from where you can purchase the software. Once purchased, you'll receive an activation key on your registered email address.
2. To Install Stellar Data Recovery For Mac;
Double-click the downloaded StellarDataRecoveryProfessional.dmg.zip file to extract dmg file
Double-click the extracted disk image (dmg) file StellarDataRecovery.dmg to mount a virtual volume
Drag the application from the mounted virtual volume to the Applications folder.
3. To Activate Stellar Data Recovery For Mac;
Open the Applications folder and double-click the recovery software/application to launch it
Accept the License Agreement, You'll be presented with an Activation dialog box.
On the Activation dialog box, enter the activation key you'd received on your registered email address, and click Activate button
Click OK on the activation success message box
How to Recover Data by Using the Software?
Launch Stellar Data Recovery Professional for Mac (if not already launched)
From the main interface, select the type of files you want to recover by using the toggle switches, and click "Next"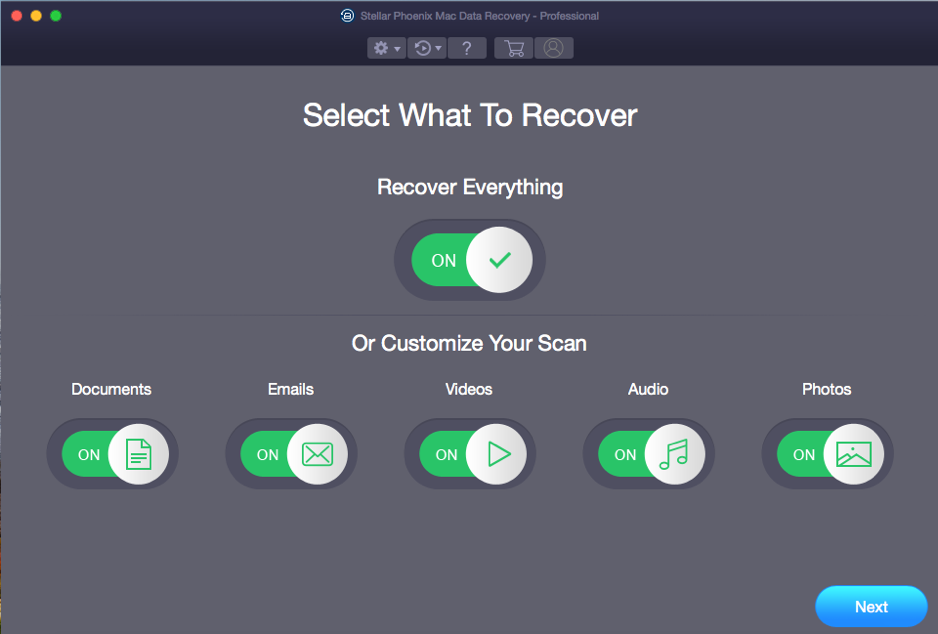 On the 'Select Location' screen, select the volume you want to search for the lost data and click "Scan".
If you don't see your required files, toggle ON "Deep Scan" switch at the bottom. Deep Scan is a comprehensive file signature-based search for maximum recovery in tough data loss cases such as drive formatting, corruption, etc.
When the Scanning process completes, click "OK"
To preview the recoverable files found after scanning, select one of the views –
Classic List, File List, or Deleted List – from the left-hand pane.
Expand the tree structure, click the desired folder; and double-click any file on the right pane to preview it.
Select the files you want to recover, and click Recover
When prompted, click Browse and select the desired location to save the files
Click Save to initiate the saving process
This will save the recovered data at your selected location.
The Drive Monitor Feature
The software has a 'Drive Monitor' feature, which allows you to view the overall health of your disk in real-time.
Steps to use Drive Monitor:
Launch the Stellar Data Recovery Professional software
From the main interface click More Tools (at the top-right corner) > Monitor Drive

This opens an interface from where you can select a disk connected to your Mac and check its disk status, SMART status, and disk partition details.
The Drive Monitor window has the following options. You can click on any as per your requirement:
Disk Status: When you click Disk Status, you'll be able to view the temperature, performance, health, and details of the disk such as model number, serial number, the total number of sectors, etc.
Smart Status: SMART Status option shows SMART attributes of the drive such as throughput performance, end-to-end error, etc. Based on these details, it also shows the overall SMART status of the drive as passed or failed.
Disk Partition: By choosing this option, you'd be able to see the disk's partitions with details such as partition's drive letter, file system, status (Healthy/Failed), capacity, and free space.
Scan Disk: Scan Disk module in the drive monitor utility scans & reports bad sectors on the disk to help assess the need for cloning.
Clone Disk: If the disk is severely corrupt or has too many bad sectors, you can use this option to clone the disk to a target/another disk. This helps in restoring data from the clone in case you lose data due to disk failure.
How Effective Is Stellar Data Recovery For Mac?
Nobody wants to loose precious digital media and require the assistance of recovery software, but thankfully all may well not be lost, thanks to Stellar Data Recovery For Mac. If our testing is anything to go by, this recovery software has an incredible ability to resurrect deleted images or digital media wiped during a card reformat. Don't expect the software to work miracles and restore images from a card that's since been fully overwritten with new data, but otherwise
We concluded that Stellar Data Recovery For Mac is a software that really worth a try. If you need a paid package with complete features, you can pick any of the paid plans available. However, it even provides decent recovery capabilities if you use the free branch of the software.
The software can easily save a day or two, if you accidentally delete an image in your Desktop or external device. In the same way, it's a powerful tool to keep in your computer if you're running a business that has a lot of precious files. Let's say that you've forgotten to make a backup and accidentally lost some files or some of them got corrupt, the paid plans can offer a way to retrieve them and keep the workflow.
The paid plans can be a little expensive, however, the advanced set of tools and impressive performance aligned with a user-friendly experience add a lot of appeal to Stellar's app. The things are even more impressive when we're talking about Mac Recovery software. While in Windows we have a multitude of software solutions offering these capabilities, on Mac things are more complicated as we need reliable, secure software to recover precious files. Stellar provides fast and accurate file recovery, and for that reason, we can't help but recommend its Data Recovery Software. Stellar Data Recovery For Mac has the potential to rescue you from most data loss scenarios, and with incredible ease.