Just like availability of any other electronic items in market which comes in different models, printers also comes under this category. It has also become an essential electronic item nowadays, for everyone. From students for completing their school projects, assignments to their parents for completing their office related documents, files, and many more. So, it also becomes difficult for a person to choose a printer which will meet their requirements as there are different models which are available in the market.
Many people now prefer buying printers more than by going outside to cyber cafes for their daily printing work. They are of this mindset of making a one time investment by purchasing these printers and making use of them for completing their regular printing chores. For this purpose, one should always buy All-in-one type of printer as they be easily useful for multiple things like- one can easily print, scan, copy by using their own mobile phones from home itself. These printers have wireless wi-fi connection so that, one can easily print photos and files by using phones, tabs, laptops and i pad.
There are two types of printers available in market i.e., Inkjet and Laserjet Printers. Inkjet printers are more preferred for using in home and personal needs as they are economical and more compact than laserjet printers. These are some of the best printers which are easily available –
Top 10 Best Printer For Home Use & Office Use
HP Deskjet 2131 – This is hp all in one printer which falls under the category of budget friendly printers. It's one of the best printer for home use and small business. It comes along with a scanner which is flatbed and it supports all formats of files and images like- JPEG, PNG, PDF, BMP and TIFF which also helps in clear scanning of documents. It can be used through USB connectivity to copy, print and scan. It can print upto 7 pages of Black & White and 5 pages of colour per minute. It is very affordable printer which has been priced for ₹ 3,200.
2. Canon E560 – As we know that Canon being one of the reliable and popular brands in terms of camera and has always served best performance to its users. It is a reliable printer which works efficiently. The printer also has an awesome facility of wi-fi connectivity along with one year warranty. It has a feature of printing with auto duplex having high print resolution and a good speed of printing pages. It is a best product to be tried out due to its price and company's brand value including features. It has been priced for ₹ 6,200.
3. HP Deskjet Ink Advantage 4535- This is one of the best HP printer and it is also one of the most economical printer. It has best compact and one can easily use it for doing various works like- printing emails through Wi-Fi, dialing on touch screen, etc,. It is faster in its printing and scanning speed as it comes with traditional cartridges. So, it can easily print very thick book in very low time. It comes under the top 10 inkjet printer which is worth buying. It has priced in between ₹ 6,000 and ₹ 7,000.
4. Ricoh SP 210 SU- This is a Laserjet Printer which is mainly designed for both office and home use. This is an all rounder printer which can be used to perform all types of works. It can be easily used without turning ON your PC, the printing can easily be done from  using any type of gadget like- smartphone or tablet just by keeping the device in front of it. For its specialization it can be said that, it is an ideal printer for printing black & white on A4 size paper. It is most affordable printer which can easily print high yielding double side prints. The price of this laptop is ₹ 8,250. One of the best laser printer for home use.
5. Brother HL- 2321D- It is one of the best single used monochrome Laserjet Printer for printing black and white sheets. It can print around 30, A4 size sheets per minute. It can also print A5, A6, letter, folio, legal and executive sizes of paper. It is mist suitable for enterprises and businesses. It has a benefit of printing automatic duplex two sided print, which helps in decreasing the use of number of printouts. But it has no option of scanning and copying. This laptop has been priced for ₹ 8,400.
6. Brother DCP – T 300 – Just like other printers of the companies like- Epson and Brother, this printer also comes with a ink tank refill technology. This technology helps in easily printing documents and images of very high quality. It offers low cost operation and good performance at a given price. It is one of the best all in one printer in india for office use which supports all types of papers printing like- plain, coated, legal, glossy and envelopes. Its price is around ₹ 9,500.
7. Epson L 360 – A muti-purpose printer which has all features like Scanning, printing and copying. It has good impression soeed as it is powered by Micro Piezo Printhead. This printer is capable of printing around 33 black & white pages and 15 coloured pages per minute. It is a portable printer so, it can be easily useful in home, business and office. The ink tubes of this printer are designed in such a way that ensures a smooth flow of ink all time. Its cost per page is very low. It has been quoted for price ₹ 9,700.
8. Canon Prixma G 2000- It is one of the best inkjet printers which comes with in buit ink tank colour technology. This technology helps in easily printing of, upto 6000 pages in black & white and upto 7000 pages in colour. This printer falls under the expensive category of printers but it is worth buying as it functions very well in terms of speed and consistency. It is also useful in scanning documents and prints high quality photos on glossy paper. Price of this laptop is near to ₹ 10,000. One of the best colour
9. Panasonic KX- MB1500- This printer claims of having a feature of power saving feature which helps in reducing one's monthly electricity bills. It is all-in-one Laserjet printer which is space saving, which makes it suitable to be used for small office and also for personal needs effectively. It operates smoothly in low cost. But it is quite expensive too. It has been oriced for ₹ 11,000.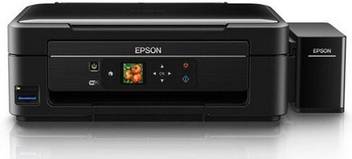 10. Epson L 445 – This printer is mostly useful in printing high quality photos and documents which are useful in reading at even small and minute font sizes. It is an inkjet printer which comes with an ink tank technology due to that ink easily gets in bottle and it is outside of the printer's body. This also helps in changing of inks easily but there is difficultly in copying documents. Its one of the best budget printers for home or small scale business. The price for this laptop fall in the range of ₹ 15,000